On behalf of the YABEC 2012 Organizing Committee, it is our great pleasure to invite you to the Symposium of Young Asian Biochemical Engineers' Community (YABEC), which will be held in the University of Tokushima, Tokushima, on October 26th - 28th, 2012. Since the first YABEC symposium was held in Seoul in 1995, this is the 18th symposium and this symposium series has developed into a key academic event among young Asian Biochemical Engineers.

This symposium is 5th YABEC symposium in Japan and first symposium in local city. Tokushima city is located on eastside of Shikoku Island and delta area of Yoshino River. This YABEC 2012 is the second YABEC symposium which is held under the auspices of AFOB.

The YABEC symposium provides us with the opportunity to share not only academic information but also YABECians' Young Spirit. We are therefore proud to welcome you to this exciting symposium, and hope that you will contribute actively to make the symposium a success, both in terms of science/engineering and YABECian Spirit.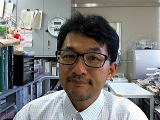 Takeshi Omasa
Chairman, Organizing Committee of YABEC 2012
Professor, The University of Tokushima
Guest Processor, Osaka University